We love to find ways to separate ourselves as people. We are so good at finding reasons, almost all of which are pretty poor and many even sinful, to divide ourselves. We relish an "us against them" posture, one which is manifested in countless forms of "us" and "them."
Let's be clear: none of this is biblical, in fact it is all antithetical to the gospel.
Yes, there are a number of differences between people and these differences are often not unimportant, but fundamentally, there are two types of people and only two type of people in the world.
Those in Adam and those in Christ.
Unregenerate and regenerate.
Unbelievers and believers.
Or, as Jesus put it, the goats and the sheep.
We see this clearly in Ephesians 2, part of this week's passage.
1 And you were dead in your trespasses and sins 2 in which you previously walked according to the ways of this world, according to the ruler of the power of the air, the spirit now working in the disobedient. 3 We too all previously lived among them in our fleshly desires, carrying out the inclinations of our flesh and thoughts, and we were by nature children under wrath as the others were also. — Ephesians 2:1-3 (CSB)
We see in these first three verses how every single person starts—dead in sin. This is universal. Apart from Jesus, no human has breathed in air without being dead in sin. This includes us.
4 But God, — Ephesians 2:4 (CSB)
If it were up to us, there would only be one kind of people in the world—all of us would be dead in sin. But it's not up to us, which is revealed in two of the most beautiful words in Scripture: "but God."
We could not, but God could, and did. And what did He do? He made a way for a second type of people.
4 But God, who is rich in mercy, because of his great love that he had for us, 5 made us alive with Christ even though we were dead in trespasses. You are saved by grace! 6 He also raised us up with him and seated us with him in the heavens in Christ Jesus, 7 so that in the coming ages he might display the immeasurable riches of his grace through his kindness to us in Christ Jesus. 8 For you are saved by grace through faith, and this is not from yourselves; it is God's gift ​— ​ 9 not from works, so that no one can boast. 10 For we are his workmanship, created in Christ Jesus for good works, which God prepared ahead of time for us to do. — Ephesians 2:4-10 (CSB)
This is true of all who have trusted in Christ. We have moved from death to life. From being in Adam to being in Christ.
That's it. Two kinds of people right there in Ephesians. We all start in the former group and all who trust in Christ move into the second.
So what does this mean? Two things.
First, we need to preserve unity in the church—realizing that we are one family and all peers no matter how the world might want to divide us.
Second, we need to love those still in the first group, not seeing them as our enemies, but rather as people who need to take the same journey we took—from death to life—through God's kindness to us in Christ.
Sin is the death of the soul. A man dead in trespasses and sins has no desire for spiritual pleasures. When we look upon a corpse, it gives an awful feeling. A never-dying spirit is now fled, and has left nothing but the ruins of a man. But if we viewed things aright, we should be far more affected by the thought of a dead soul, a lost, fallen spirit"  — Matthew Henry (1662-1714)

Matthew Henry, in Parallel Commentary on the New Testament, comp. and ed. Mark Water (Chattanooga, TN: AMG Publishers, 2003), 653.
Tips for Teaching this Week's Session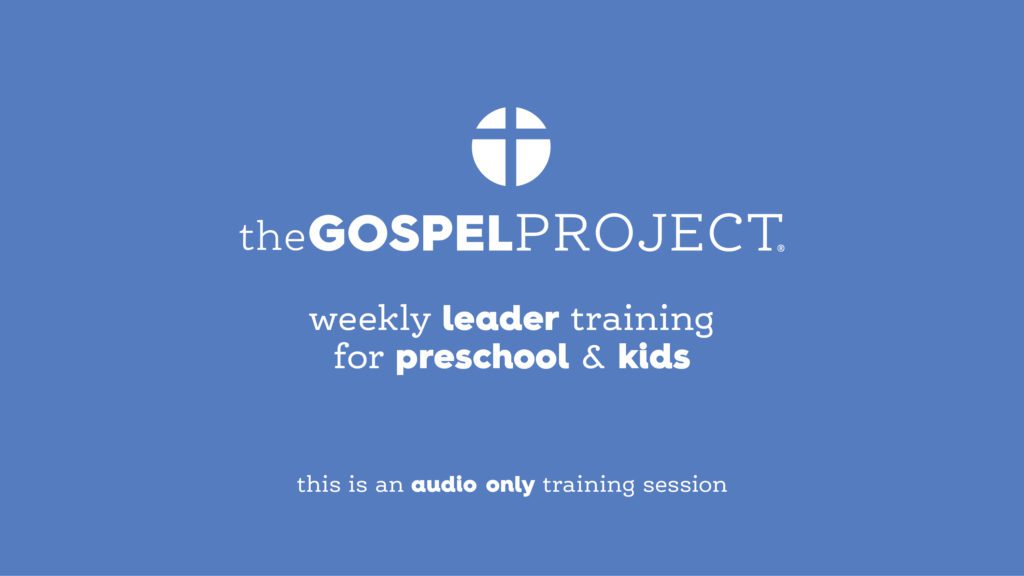 Every week, members of The Gospel Project for Kids team offer guidance to help you as you prepare to teach every session to preschoolers and kids. Listen in as we discuss:
The big idea of the session
Any areas of caution or requiring additional prep time
What we hope God will do through this session
Podcast (kidsleadertraining): Play in new window | Download
This training is available on Ministry Grid, Apple Podcasts, Spotify, Stitcher, and other podcast platforms.