Reading parts of 1 John can be confusing—if we don't understand the letter's context. As we read, we might wonder if we are saved—if anyone is saved—because John seems to say that if we sin (and we all do), then Christ is not in us.
But that is not what he was saying.
John was writing to the early church to combat the false teachings and anti-gospel living of a group called the Gnostics. The Gnostics believed that Jesus had passed down a secret teaching which was required to be saved. Furthermore, they taught that the spiritual realm was really what mattered, not the physical realm, which was just fallen creation. This teaching led to two very different branches of Gnosticism.
The first group believed because the physical realm was sinful, it should be rejected. As a result, this branch pursued extreme asceticism—denial of anything and everything physical as much as possible.
The second group took the opposite approach and concluded that because only the spiritual realm matters, we can do whatever we want in the physical ream. As a result, this branch pursued extreme licentiousness—doing anything and everything physical as much as possible.
John seems to be addressing mostly the second group. As you read 1 John, it is vital, then, to keep those two ideas in mind: a claimed secret knowledge and extreme licentiousness. This is what John speaks against. It all starts with the encouragement that we can surely know that we know Jesus.
Knowing
John's letter was not meant to cause doubt in the early church; quite the opposite. He wanted them to know they were right with God, something the church struggled with because of the secret knowledge claimed by the Gnostics.
If you go back and read how John opened the epistle in Chapter 1, this becomes obvious. John is establishing himself as an eyewitness with firsthand knowledge of Jesus, unlike the Gnostics. If anyone had heard of any secret knowledge, it would have been John. But he hadn't because there was no secret knowledge.
Then, throughout the letter, notice how often John talks about knowing. Like here, in 1 John 2:3, for example:
3 This is how we know that we know him: if we keep his commands. — 1 John 2:3 (CSB)
Do you see John's concern for the church? He wanted them to know that they know Jesus—that is possible. But John doesn't stop there. He explains how we can be absolutely sure in our relationship with Christ: obedience.
Obeying
3 This is how we know that we know him: if we keep his commands. 4 The one who says, "I have come to know him," and yet doesn't keep his commands, is a liar, and the truth is not in him. — 1 John 2:3-4 (CSB)
We can know that we know Jesus by keeping His commands. If someone claims to know Jesus, but doesn't keep his commands (do you see John eyeballing the Gnostics here?), that person is a liar. We cannot know Jesus and not want to obey Him.
Does this mean we must obey perfectly? Of course not. John addressed this in the first chapter. While we should want to obey perfectly, and obedience will mark our lives, our obedience will be imperfect.
But there is one more vital aspect of knowing Jesus that John does not want to miss—one that he talks a great deal about in his writings: love.
Loving
3 This is how we know that we know him: if we keep his commands. 4 The one who says, "I have come to know him," and yet doesn't keep his commands, is a liar, and the truth is not in him. 5 But whoever keeps his word, truly in him the love of God is made complete. This is how we know we are in him: 6 The one who says he remains in him should walk just as he walked. — 1 John 2:3-6 (CSB)
Love is the glue that holds the entire structure of our faith and obedience together. Just as glue penetrates into the cracks and crevasses of a piece of wooden furniture to fix it together, love seeps between our knowledge of Christ and our obedience to Christ to keep them joined together as one.
Love of the One we know prompts obedience. And that obedience is saturated with love—of Christ and others.
The Bible doesn't address every issue we face. We wish it did, but it does not. We cannot turn to chapter and verse to see what the Bible commands us to do when we have to choose which college to attend, which job to take, or whether or not to buy that new television. So how do we live in obedience in these times? What guides us when there is no script to follow?
Love. If we filter our decisions through the lens of us living in love of Christ, yielded to the Spirit, and seeking to always love our neighbor, we will be fine. We may not have absolute clarity of these decisions, but at times we might. We might consider the college that provides us with better opportunities to develop relationships with students and point them to Christ. We might determine one job allows us to use our talents better to glorify Christ. We might conclude that purchasing the television could be used as a way to have friends over to build relationships. Love guides our living, and love is what gives us confidence that even if we don't make the best decision, we rest in secure relationship with the One who loves us.
On the one hand, the person who keeps the commands can have confidence that he knows and abides in God. On the other hand, the one who claims to know God but does not keep the commands proves himself to be a liar. John does not envisage the possibility where one can know God and not live in a manner pleasing to Him."  — Christopher Bass

Christopher D. Bass, That You May Know: Assurance of Salvation in 1 John, in NAC Studies in Bible & Theology (Nashville, TN: B&H, 2008), 130.
Tips for Teaching this Week's Session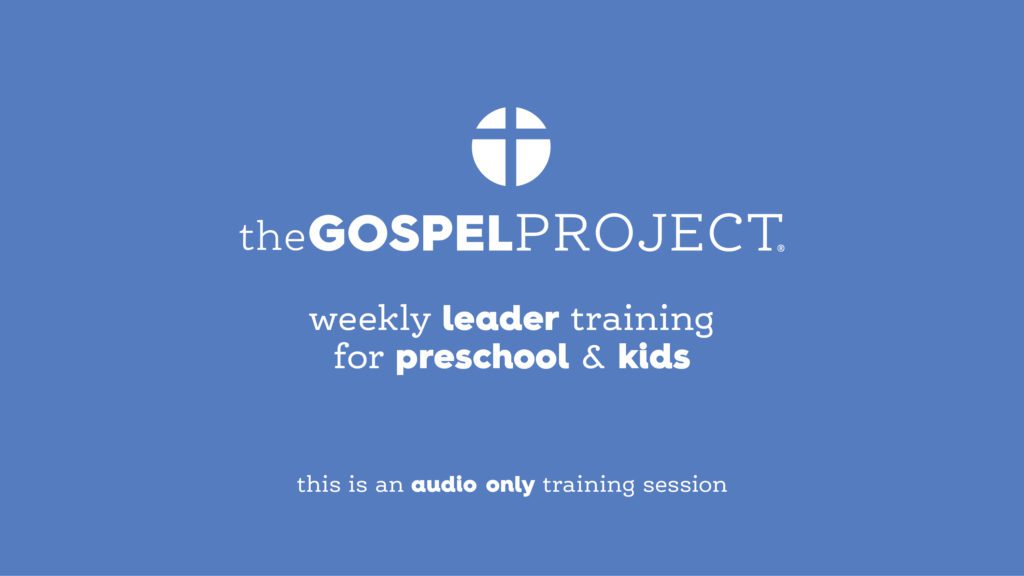 Every week, members of The Gospel Project for Kids team offer guidance to help you as you prepare to teach every session to preschoolers and kids. Listen in as we discuss:
The big idea of the session
Any areas of caution or requiring additional prep time
What we hope God will do through this session
Podcast (kidsleadertraining): Play in new window | Download
This training is available on Ministry Grid, Apple Podcasts, Spotify, Stitcher, and other podcast platforms.
Reader Interactions