As I write this post in mid-April, much, if not most, of the entire world is still locked down in a state of social distancing because of COVID-19. It is amazing how quickly and deeply this "new normal" has set in, so much so that these days when I see people gathered in a movie, I think, "You really shouldn't be doing that!"
Social distancing has effected all of us, although we introverts probably not as much. The reason is simple, yet profound: Because God did not create us for isolation; He created is for relationship. Relationship with Him and with others. This is helpful to keep in mind as you prepare for this week's session—one I which we are able to share with our kids in person.
At a Distance from the Savior
Maybe it is just the Baader-Meinhof phenomenon in action, but something jumped out at me as I read the passage for this week again:
As he entered a village, ten men with leprosy met him. They stood at a distance and raised their voices, saying, "Jesus, Master, have mercy on us!" (Luke 17:12-13 CSB, emphasis added)
Social distancing in action two thousand years ago. And for similar reasons: fear of contamination. Today the fear is over contamination by a virus that can be lethal for many, while back then the fear was over contamination by ceremonial impurity.
These ten men with leprosy knew the drill. Ever since they had contracted the dreaded disease these men had done the same thing any time another person approached: they gave plenty of distance.
Imagine with me for a moment, what it must have been like for these men the first time they heard of this man—a man named Jesus—who was said to be able to heal diseases. Imagine the hope that welled up in their souls. And then, imagine what it was like for them when they heard that this man was traveling in their area. Surely they dropped everything they might have been doing and ran to meet this man, from a distance of course.
They likely drew as close as they dared and then raised their voices, part excitement and part to be heard, asking for mercy.
Jesus heard them and He extended mercy to all ten, exhorting them to go show themselves to the priests. Interestingly, and importantly, the healing did not occur until they went—coming about out of their faith. In that moment, ten men were cleansed from leprosy, but one would experience an even greater renewal.
At the Feet of the Savior
Only one of the ten men, a Samaritan at that, returned to thank Jesus for the healing he had experienced. Notice, though, from where the man thanked Jesus:
He fell facedown at his feet, thanking him. And he was a Samaritan. (Luke 17:16 CSB, emphasis added)
"At his feet." The man was held "at a distance" from Jesus no longer. Now, having been cleansed by Jesus, the man was able to draw close to the One who had extended such lavish mercy upon him.
What most people would have considered the greatest barrier of this man's life—leprosy—was now gone. He could now walk near others. Shake hands. Hug his family. Kiss his wife, if he had one. The great barrier of social distancing was over for him. But as wonderful as that was, it was far from the greatest barrier that Jesus removed.
Thankful for a Savior
After Jesus asked about the other nine men and pointed out how the lone man to return was a Samaritan (a comment pointedly directed at the nationalistic pride of Israel in their belief that God wanted to save them alone), notice what Jesus told the man:
And he told him, "Get up and go on your way. Your faith has saved you." (Luke 17:19 CSB, emphasis added)
Jesus changes the context from healing a disease to providing salvation from sin. Presumably, part of the Samaritan man giving glory to God (v. 15) was recognizing that Jesus is God—that which is necessary for salvation. The man's barrier between other people was gone—and that was wonderful—but through Jesus, the man's barrier between him and God was now gone too—and that was glorious.
In this, we see how the entire account pictures our salvation from sin. We too were like the men with leprosy—forced away from God because of our sin. But then, due to the mercy and kindness of Christ, we are able to draw near to God once again when we trust in Jesus. Jesus is the greatest healer ever, and He is even a greater savior. For this, we give great thanks. Jesus has closed an uncrossable, infinite distance.
O leprous sinner, go to Christ at once; go now, tarry not until thou hast left the sanctuary! Wait not until the sermon is over. It is written, 'To-day, if ye will hear his voice, harden not your hearts.'" — Charles Spurgeon

Charles H. Spurgeon, " 'Where Are the Nine?' Where?" in The Complete Works of C. H. Spurgeon: Volume 51, Sermons 2916 to 2967 (Delmarva
Publications, Inc., 2013) [eBook].
Tips for Teaching this Week's Session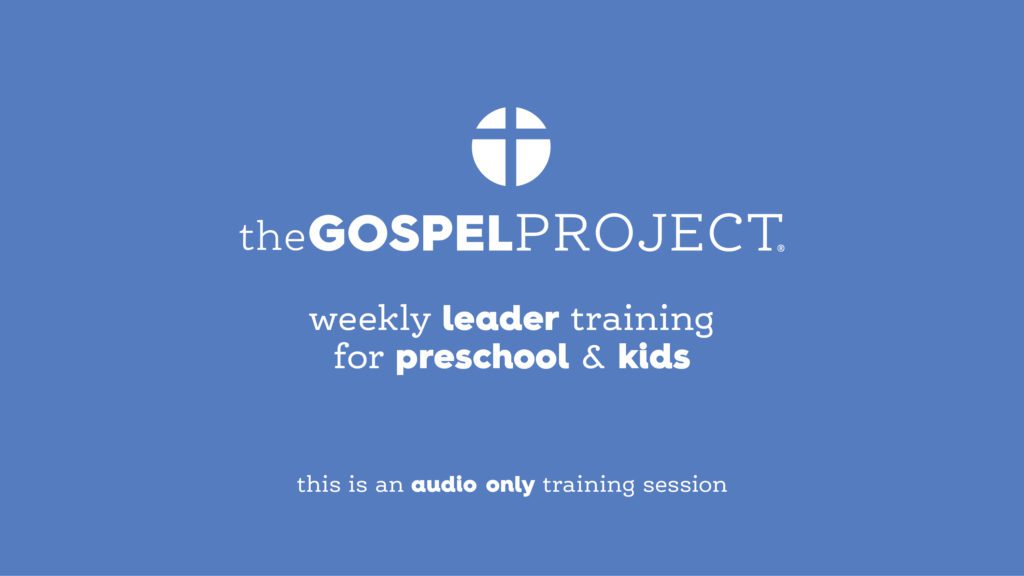 Every week, members of The Gospel Project for Kids team offer guidance to help you as you prepare to teach every session to preschoolers and kids. Listen in as we discuss:
The big idea of the session
Any areas of caution or requiring additional prep time
What we hope God will do through this session
Podcast (kidsleadertraining): Play in new window | Download
This training is available on Ministry Grid, Apple Podcasts, Spotify, Stitcher, and other podcast platforms.