I tend to be a driven and focused person. So much so that at times my wife will laugh at me for being oblivious to my surroundings when I am thinking on something. In those times, I don't like distractions. I want to put all of my energy–all of my attention—on the task at hand.
It's the same reason why I cannot stand unanswered emails in my inbox. (How horrid is it that some people have unopened emails in their inboxes!?!?) I really don't like incomplete projects or tasks.
I sure hope Jairus was not wired the same way as me.
Rushing to Jesus
Jairus was experiencing the nightmare of every parent—his child was dying. I don't know about you, but as a father this has been one of my greatest struggles during the COVID-19 pandemic—worrying about my kids getting sick and ending up hospitalized. That concern has been only heightened by the visiting restrictions in place in hospitals. To think of one of my three kids in the hospital and me not being able to be there with him or her breaks me. I cannot imagine what Jairus was going through.
I don't know if Jairus came to be part of the crowd this day because he knew Jesus was there (he sought Him out) or if he only found out that Jesus was there when he saw the crowd (he stumbled across Him), but either way, there was a point when Jairus' heart swelled with something he may not have felt for a while: hope. And in that moment, he may have entered into task completion mode. Everything else around him faded into obscurity and the only thing that mattered was getting to Jesus to get Jesus to his little girl.
When Jairus reached Jesus, he "begged him earnestly" (Mark 5:23). Can you feel the urgency? The angst? The worry? The hope? And then, when Jesus turned to go with him, surely that hope grew. Maybe, just maybe, his daughter might live after all.
Waiting on Jesus
But then, that hope may have dissipated in an instant when Jesus stopped. Everything was going as Jairus had planned—Jesus was on His way with him to his daughter. The crowd was, of course, a problem because it was slowing their progress—and time was surely of the essence. But then Jesus not only stopped, but turned around. There wasn't time for this! What was He doing?
What He was doing was caring for someone else as well—the woman with a bleeding issue. This is the woman who had such great faith in Jesus, that she believed that is she merely touched His robe, she would be made well. And that faith is what healed her. What a great moment for this woman! What a great teaching moment for us today—showing us the power of faith in Jesus! But what a terrible moment that surely felt like an eternity to Jairus. As far as he knew, this woman's healing may have cost the life of his daughter. Time was of the essence. Every second may have mattered.
Believing in Jesus
As Jesus was talking with this woman, some people came to tell Jairus that it was too late—his daughter had died.
We have to remember that the Bible doesn't give us full accounts of what happened. For example, many of the sermons in Acts are likely much longer than what is recorded. The Bible gives us true, accurate accounts, but often the accounts are summarized. With that in mind, perhaps the conversation with the woman was longer than it seems in the text. And we also don't know how far away Jairus lived. So we cannot pinpoint with certainty if Jesus stopping to talk with this woman prevented Jesus from making it to Jairus' daughter before she died. But whether it was or not, can you imagine what Jairus likely felt? As the saying goes, "perception is reality" and it is likely that Jairus perceived that Jesus stopping to help this woman was at least not helpful, if not what prevented Jesus from reaching his daughter to heal her.
Notice, though, how quickly Jesus turned to Jairus to restore his hope. "Don't be afraid. Only believe." (Mark 5:36) Don't be afraid of death, Jairus. Only believe in Me.
How Jairus responded isn't recorded. I wish it were, but understand why it was not. Focus was placed where it belonged: on Jesus, the one who went to the girl and raised her from the dead.
This is a powerful picture of faith in Jesus. God calls on us to believe too—to place our trust in Jesus as we allow Jesus to do what we cannot do on our own—overcome sin and death. When we come to Christ, we must leave all our efforts behind. We drop our tasks and our projects at self-improvement and earning God's favor. We abandon them all. And instead, we rest in Christ and His work. That is faith.
Come as you are, and he will receive you. Come empty handed, and he will enrich you. Come guilty, and he will forgive you. Come trembling, and he will reassure you. He will keep every promise in the Bible, and he will do it freely and personally for you, because he is faithful to everyone who has faith in him." — Ray Ortlund

Ray Ortlund, "Jesus and Faith," Renewal Ministries, January 27, 2013, renewalministries.com/message/jesus-and-faith.
Tips for Teaching this Week's Session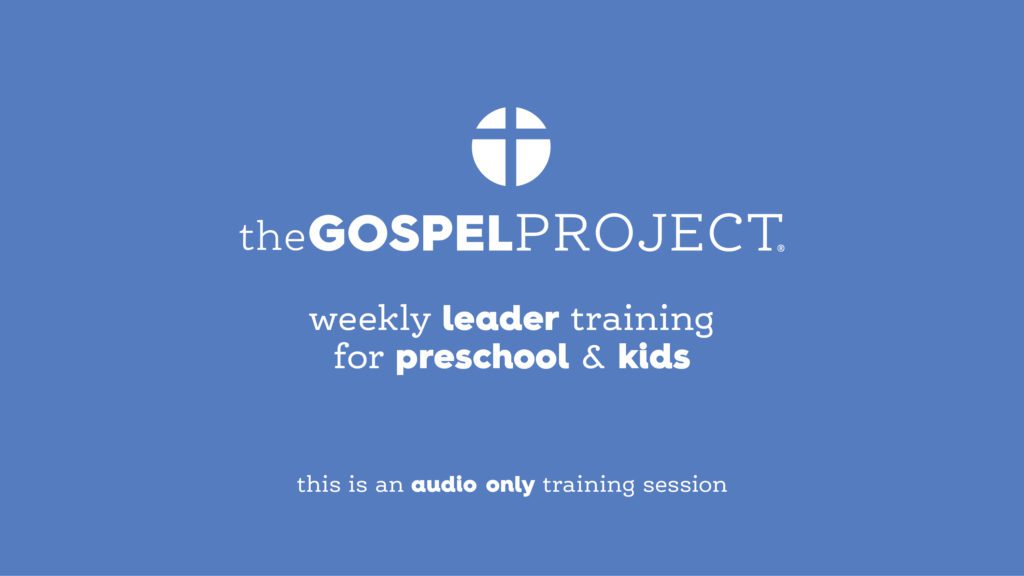 Every week, members of The Gospel Project for Kids team offer guidance to help you as you prepare to teach every session to preschoolers and kids. Listen in as we discuss:
The big idea of the session
Any areas of caution or requiring additional prep time
What we hope God will do through this session
Podcast (kidsleadertraining): Play in new window | Download
This training is available on Ministry Grid, Apple Podcasts, Spotify, Stitcher, and other podcast platforms.
Reader Interactions