One of the more important questions we can help our kids answer is this one: What does a follower of Jesus—one of His disciples—look like? This question should naturally flow from our sharing of the gospel. We start with who God is and what He has done for us in Christ, but we cannot stop there. We need to get to the preceding question. We have to help kids know what practical differences Jesus should make in our lives.
Thankfully, we don't need to construct the identity of a believer—we have been given it in many places throughout Scripture, most notably, perhaps, by Jesus Himself in the Sermon on the Mount (Mt. 5:1–7:29). In this sermon, it is as if Jesus anticipated our question and said, "Here. Let me answer that for you." While there are many ways to outline this sermon, here is what I consider a pretty simple, basic overview approach to help us see the broad strokes of this important, beautiful, and powerful message.
New Character (5:1-12)
The sermon begins in a familiar way, doesn't it? With Jesus going up a mountain to deliver a teaching that begins with a series of short, punchy instructions. Remember that Matthew wrote his Gospel with a Jewish audience in mind, one that would have been quite familiar with Moses—another prophet who went up a mountain to deliver a message that began with a series of short, punchy instructions. The point? Jesus is the greater Moses.
But as we begin to consider the content of what was shared by Moses and Jesus, we see important differences begin to emerge. In the Ten Commandments, Moses passed along rules of obedience to God's people. That made sense because the Old Covenant was based on obedience. Moses, therefore, is sharing how that can happen (although it didn't; the people disobeyed). But here we see a list of character traits of people God blesses. It's not about what we do, but what God has done in us. And God's work brings blessing in our lives.
This is at the core of the gospel—it is not about what we might do, but what God has done. We cannot obey enough to be accepted by God. Rather we are accepted by God based on Christ's obedience and we are instantly changed as a result.
This is where we begin to form an understanding of what a disciple looks like. A disciple is a person who has been declared forgiven and righteous by God and given a new identity—new character—based on God's grace.
Intentional Engagement (5:13-20)
The gospel divides people into two camps: lost and saved. It's as simple as that. But God's intention is not for His people to live in isolation from the world. Yes, disciples are to be holy—to be set apart—in practice but not in geography. Instead, we are to live in close proximity to others so that we can be used by God to influence them toward trusting in Jesus too.
We are to be salt—infusing our culture with flavor and to preserve it—and light—penetrating the darkness to reveal Christ.
That means that we are to engage our culture with intentionality—as we seek ways to reveal Christ, share the gospel, and demonstrate the difference Christ has made, and continues to make, in our lives.
Internal Transformation (5:21-48)
But how do we get the power—the ability—to live in such a way? How can we live as salt and as light when we live so close to people who want to distract us from the gospel and the things of the world pull us away from Christ? Once again, the answer is not what we can do, but what God continues to do in us. It's a matter of continued heart transformation.
The heart drives what we do. If we focus on what we do, we might be able to make it work for a while, but not for long. We can only white knuckle it for hours—perhaps days, at best. But, if we yield to the Holy Spirit's work in our hearts—to change us from within—we will see our conduct change exponentially beyond what we can do.
The antidote for murder is a heart of love. The antidote for adultery is a heart of contentment and purity. It's all a matter of our love and value of God and others—a love in the heart born out of gospel change.
Humble Conduct (6:1-18)
It should not be surprising, then, that humility is another hallmark of a disciple. The more we understand that we are who we are because of God's grace, mercy, love, and power, the less inclined we will be to focus on us, but Him. We will not want to draw attention to ourselves, but rather to our God.
This is why our conduct should be one that is saturated with humility. We don't give to be noticed. We don't pray to be noticed. We don't fast to be noticed. A heart changed by the gospel finds that unconscionable. Repulsive even. A disciple craves glory—but not for himself or herself, but rather for Christ, his or her greatest treasure and greatest love.
New Mindset (6:19–7:12)
But changed behavior and affections are not the only fruit of the gospel in a disciple's life—a changed mindset is as well. Disciples are to think differently—to see the world around them differently. Believers see money and possessions as not ends to themselves, but means to an end—the greater end of glorifying God. They see needs differently—as opportunities for God to provide. They see the wrong of others differently—not as cause to look down upon them, but to lift them up through the power of the gospel.
So what does a disciple look like? A disciple is someone who has been changed by the power of the gospel—head, heart, and hands—to live as the fragrance of Christ in a world filled with the stench of sin's decay.
The Christian is not only to be different, he is to glory in this difference. He is to be as different from other people as the Lord Jesus Christ was clearly different from the world in which He lived." — Martin Lloyd-Jones

Martyn Lloyd-Jones, "The Salt of the Earth," November 30, 2019, www.monergism.com/thethreshold/sdg/salt.html.
Tips for Teaching this Week's Session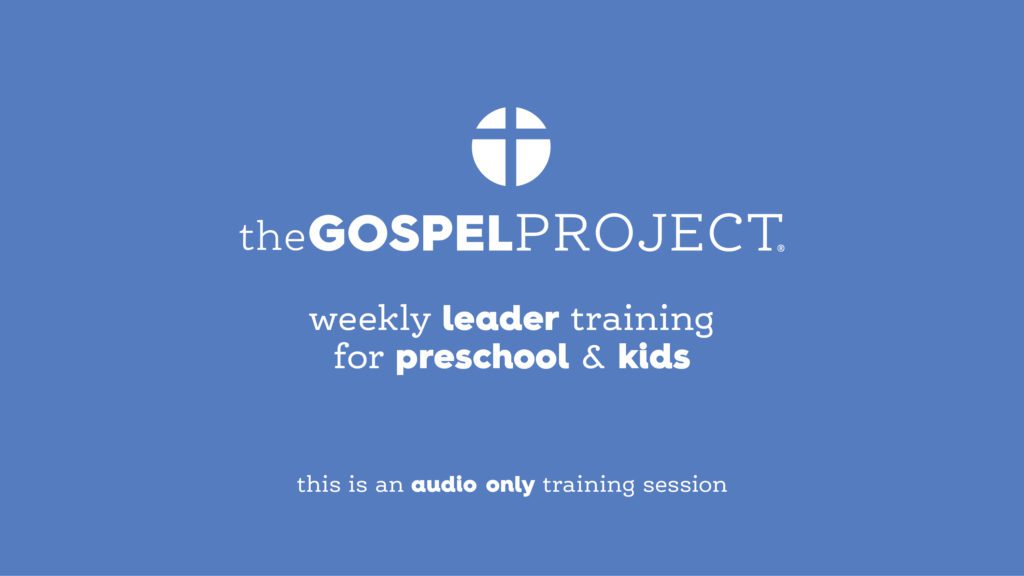 Every week, members of The Gospel Project for Kids team offer guidance to help you as you prepare to teach every session to preschoolers and kids. Listen in as we discuss:
The big idea of the session
Any areas of caution or requiring additional prep time
What we hope God will do through this session
Podcast (kidsleadertraining): Play in new window | Download
This training is available on Ministry Grid, Apple Podcasts, Spotify, Stitcher, and other podcast platforms.