I used to play golf. Like most golfers, I was rather bad at the game, but still it was fun. No matter how bad a round was, though, there was always that one shot—that one shot that actually felt good and went pretty much where you wanted it to go. And that one shot would make you forget the dozens of terrible shots and be the reason you went golfing the next time—always under the allusion that you would finally find that shot's friends that have been hiding so well for so long.
Notice that I said that I "used" to play golf. I haven't been out in years. So what happened? I gave golf up because I reached the point where I didn't find it worth the money and time it requires. I would rather be with my family and use the money I would have spent on green fees and balls—lots of balls—on other things. Don't get me wrong; I am not judging anyone who plays golf as being a poor steward of time and resource. It was just a decision I reached. I counted the cost of playing golf and found it to be wanting.
My decision to give up golf was neither difficult nor noble. It was just one part of life. But there is a decision that is critical that Jesus warned people to take seriously—the decision to follow Him.
Following Jesus Might Cost Your Relationships
Jesus was a bad salesperson. Terrible actually. When it comes to sales, the goal is, of course, to point out all the positives. You don't focus on the potential negatives. Imagine an advertisement for a Porsche leading with, "The gas mileage is pretty rough, you cannot fit your family in this, and the you'd be lucky to fit a lunch box in the trunk, but if you want to buy one, come see us." Absurd right?
So why then did Jesus talk about following Him like this:
If anyone comes to me and does not hate his own father and mother, wife and children, brothers and sisters ​— ​yes, and even his own life ​— ​he cannot be my disciple. Whoever does not bear his own cross and come after me cannot be my disciple. (Luke 14:26-27 CSB)
That would get Jesus fired from the Porsche dealer.
And that is the key to understanding this. Jesus was not trying to sell Porches. Neither was He trying to sell salvation. The gospel is not a crass good to be peddled; it is a beautiful gem to be cherished. Knowing and following Jesus is of infinite value. But it comes at a cost. The greatest cost, of course, was paid by Jesus. But there is still a cost to us. Not to attain it. We need to be clear on this. We do not pay a cent for salvation. Rather, the cost we pay is in how we live out that salvation. This is what Jesus wanted the people of His day—and us—to understand. And this is why He talked about following Him as He did.
What did Jesus mean, though, when He spoke of our need to hate our parents, spouses, children, and siblings? One of the rules of Bible interpretation is always to interpret that which might be unclear within the context of that which is clear. Here, for example, this instruction seems unclear. It doesn't make sense on the surface. But we can know that Jesus does not mean we are literally to hate our families. Not because our gut tells us this, but because Scripture does. The Bible has plenty of clear passages on our calling to love our families.
So what did Jesus mean then? There are two common interpretations. Both are sound, but for the record, I prefer the second.
The first, and perhaps more common, interpretation is that Jesus was speaking of the caliber of love here. We are to love Christ so much so that our deep, genuine love for our families pales in comparison. Using hyperbole, Jesus was saying that our love for our families should seem puny even—seem like hate—in contrast to our love for Him.
The second interpretation is that Jesus was using a Jewish idiom here where "hate" is used in the sense of not choosing. We see this in Romans 9:13, "As it is written: I have loved Jacob, but I have hated Esau. (CSB) The idea of this verse is that God chose Jacob over Esau. Carrying this over to Jesus' statement in Luke, we can see what He was driving toward—we cannot follow Jesus if we fail to choose anyone—even our families—over Him.
We see this expressed in life, don't we? Think of modern day Jews who have trusted in Jesus as the Messiah to be rejected by their families. Think of Muslims who are rejected and even persecuted by family and friends for believing in Jesus. Think of the American young adult who is scorned by her atheist family for her trust in the gospel.
Jesus' first warning is sobering—be sure to consider if you'd be willing to trade all of your relationships with others for one with Him.
Following Jesus Might Cost Your Life
Can you hear the pitchman on the infomercial? "But wait, there's more!" Jesus doesn't stop with the potential of losing relationships—as devastating as that might be. He then warns that following Him might cost more—lots more. It might cost a person his or her life.
There is a famous line in The Princess Bride where after Vizzini utters his catchphrase, "Inconceivable," Inigo Montoya replies, "You keep using that word. I do not think it means what you think it means." I wonder if Montoya would say the same thing to many of us who misuse what Jesus said to drive home this point—that we need to bear our own crosses to follow Him.
How often have you heard someone share what his or her "cross" is? Joblessness. A wandering child. A medical issue. Prior trauma. All of these are certainly challenging and I don't want to minimize them at all. But none of these are a person's cross. Because that word doesn't mean a burden in life—even an extreme one—that must be carried. The cross was an instrument of death. Period. When the crowd around Jesus heard Him say this, they would never have wondered what their personal crosses might have been. They would have immediately thought of the Roman execution instrument. And they would have heard Jesus clearly calling on His followers to be willing to die for Him. The cross is merely a sobering amplification of what Jesus said in the prior verse—we have to hate even our own lives. We have to choose Jesus over our lives.
This idea will be abstract to most people reading this blog post. Most of us live in no fear of dying for our faith. It is tempting to say that this is a good thing, one which we should be grateful for. And I guess that is true to a degree. But perhaps it is not the best for us at the same time. Perhaps we would be better off to feel the pressure of following Jesus—to know it comes with a true price. It's no wonder that the church often thrives where it is most persecuted.
Following Jesus Requires Counting the Costs
"And all of this for just four easy payments of $99." One of these days I will figure out what is easy about paying anything, but beyond that, have you ever noticed how companies try to hide the true cost of their products? They use the dollar or cent ending in 9 to make it sound better. It's not $100, it's just $99. And they will also spread out the payments to hide the true cost—it's not $396, it's just $99…four times.
That is not what Jesus did. He share the total cost clearly up front. And then He warned His potential followers to count the cost and determine if it is worth it. If it is, then great. Follow Him and be ready to pay that price. (The beautiful part is that by God's grace, we often do not have to.) But if it isn't worth it, then walk away. Don't even try. No one will win if you try to follow Jesus half-heartedly. Just as it is foolish for a builder to begin construction of a project not having adequate funds to complete it or a king leading an outmatched army into battle, it is likewise foolish to begin to follow Jesus not ready to pay whatever price may be required.
While this may not be the typical encouraging Bible passage you are used to sharing with your kids, I hope that you see how critical it is. We are not helping and loving our kids if we do what Jesus did not do—hide the potential cost of following Him. It was loving for Jesus to be "real" with the people of that day, and it is loving for us to do the same with our kids. Let's point them to the value of Christ. Let's help them see the beauty of the gospel. Let's be clear that trusting in Jesus is free for us. But let's also be clear that following Him can be costly. But it's worth it.
The disciple is a disciple only in so far as he shares his Lord's suffering and rejection and crucifixion. Discipleship means adherence to the person of Jesus, and therefore submission to the law of Christ which is the law of the cross." — Dietrich Bonhoeffer

Dietrich Bonhoeffer, The Cost of Discipleship (New York: Touchstone, 1959), 87.
Tips for Teaching this Week's Session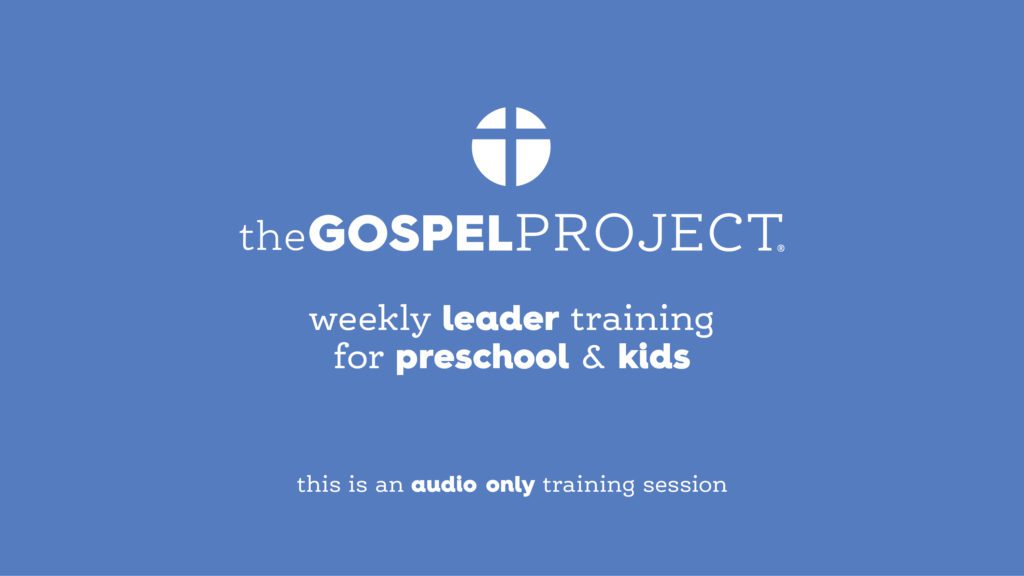 Every week, members of The Gospel Project for Kids team offer guidance to help you as you prepare to teach every session to preschoolers and kids. Listen in as we discuss:
The big idea of the session
Any areas of caution or requiring additional prep time
What we hope God will do through this session
Podcast (kidsleadertraining): Play in new window | Download
This training is available on Ministry Grid, Apple Podcasts, Spotify, Stitcher, and other podcast platforms.