We treasure what we love and we love our treasures.
When our treasures are proper, this is great. It is right and fitting that we treasure Christ and that we love Him. It is right and fitting that we treasure God's Word and that we love reading it. It is right and fitting that we treasure the church and that we love being with God's family.
But when our treasures are improper, a multitude of troubles will follow. This warning is what we have the opportunity to lay before our kids this week. It is an important warning—a timely warning. Many of our kids already treasure the wrong things—possessions, popularity, affirmation—and if their hearts are not checked by the gospel now, those treasures will likely multiply and drive our kids farther away from the beauty of the gospel toward the fleeting treasures of the world which lead only to heartache and despair.
Here are three important conversations that we want to have with our kids as we also come alongside our families to encourage and equip them to do likewise:
Defining Wants and Needs
God has promised to provide what we need, but not necessarily what we want. That distinction is critical for three reasons.
First, we cannot, should not, must not promise what God has not promised. To speak presumptuously of God is unwise and even dangerous. God is jealous of His glory and character. He does not take being impugned—intentionally or unintentionally—lightly. Furthermore, we don't want our kids setting themselves up for disappointment, anger, and even rejection of God based on God not doing what He never said He would do. God is trustworthy and our kids need to see and experience that. Positively, by pointing them toward God's faithfulness over and over again while negatively, ensuring that they do not attribute any failing to be faithful to God.
Second, we are often blind to our true needs. We are quite apt to consider a want as a need. Not only does this connect back to the first point, but it is not good for our souls. It feeds greed and discontentment to define wants as needs. Furthermore, it robs this world of so many resources that can and should be used for the Kingdom. Perhaps an absurd, extreme analogy helps here. What if I considered a solid gold, jewel-encrusted coffee maker to be a need? What if I dropped tens of thousands of dollars for such a contraption instead of spending $40 for a regular one and gave even a portion of the difference to missions work? See how we can rob Kingdom work when we conflate wants and needs?
Third, many of our wants are simply not good for is. Foolish, narrow thinking wishes that God gave us everything we want. We have to remember that our wants (our treasures) are born in our hearts and our hearts cannot be trusted. There are times when God's goodness is found in what He withholds from us, not what He gives us.
Rejecting Consumerism
At the core of consumerism, at times called materialism, is the promise that possessions will make you happy. Let's pause right here to clarify that there is nothing at all wrong with possessions. Even being rich is not inherently evil. One can have wealth and honor and serve God, just as one can have nothing and do likewise. While wealth is not contrary to the gospel, consumerism is. And beyond that, consumerism is a sinister liar, and it knows it.
True happiness—true contentment and joy—is anchored in knowing God through Jesus Christ. Period. Any enjoyment we get out of possessions should be channeled back to God, the giver of those possessions. But consumerism entices us to seek that happiness, contentment, and joy in God's gifts themselves, rather than Him as the Giver. There's a word for that: idolatry. Possessions make terrible gods because they will fail us every single time. And consumerism knows this. It knows that what it proclaims—contentment is found in possessions—is a lie because it needs it to be a lie. Consumerism would fall apart if its claims were true. Consumerism proclaims that the newest smartphone will be what we need to make us happy. But then six months later, consumerism needs for us to find that phone dissatisfying as a newer, better phone is introduced. Like a carrot on a stick, consumerism holds out the perpetual "next" as the answer. And that is why it thrives.
We need to love our kids enough to peel back the veneer of consumerism and show it to be the fraud it is. We need to counterbalance the endless stream of consumerism's false gospel with the true gospel—that in Christ, our greatest treasure, we are able to find true happiness. Period.
Embracing Stewardship
Rejecting consumerism's lies gets us halfway there—it leaves us neutral. It's a critical first step, of course, but our goal is not just to help our kids not make possessions their treasure, but also to help them use what God has given them for His glory. We want them to be good stewards.
This was the problem with the rich fool in Jesus' parable in Luke 12. The problem was not that he had a bumper crop—that was a blessing from God. Neither was the problem that he built bigger barns to protect that bumper crop. That was a wise move. What made the rich man a fool was his heart posture behind it all:
He thought to himself, 'What should I do, since I don't have anywhere to store my crops? I will do this,' he said. 'I'll tear down my barns and build bigger ones and store all my grain and my goods there. Then I'll say to myself, "You have many goods stored up for many years. Take it easy; eat, drink, and enjoy yourself." ' (Luke 12:17-19 CSB)
I…I…I. No mention of God or others. This man was a fool because he failed to see who provided him with such a blessing and he failed to consider how he might use it to make much of God, the Giver, while loving his neighbor. The man was selfish. He was proud. That was what made him a fool.
We see this in Jesus' conclusion. He provides us with the interpretive key:
"That's how it is with the one who stores up treasure for himself and is not rich toward God." (Luke 12:21 CSB)
Notice that Jesus did not rail against possessions here. He did not condemn barn-building. What He condemned was failing to steward well what God has given. Of being rich toward oneself rather than God.
This is what we want our kids to learn now: that everything they have is a gift from God and they are to steward it all well. There is nothing wrong with enjoying possessions, but at the same time, we need to live with generosity. If Jesus is our greatest treasure, we will want to do everything we can to make much of Him. And we will view the resources God has entrusted to us through that lens. The tighter we hold onto our greatest treasure, the looser our grip of the world's treasures becomes.
God's continual provision is always before our eyes. It's His common grace that keeps the sun rising and the earth turning. It's God's good providence that keeps His creatures fed and clothed. Indeed, it is His grace that runs before us and behind us, keeping us secure in a way our own worrying, striving, and scheming could never achieve." — She Reads Truth Bible

Raechel Myers and Amanda Bible Williams, gen. eds., "Consider the Ravens," in She Reads Truth Bible (Nashville, TN: B&H, 2017), 1763.
Tips for Teaching this Week's Session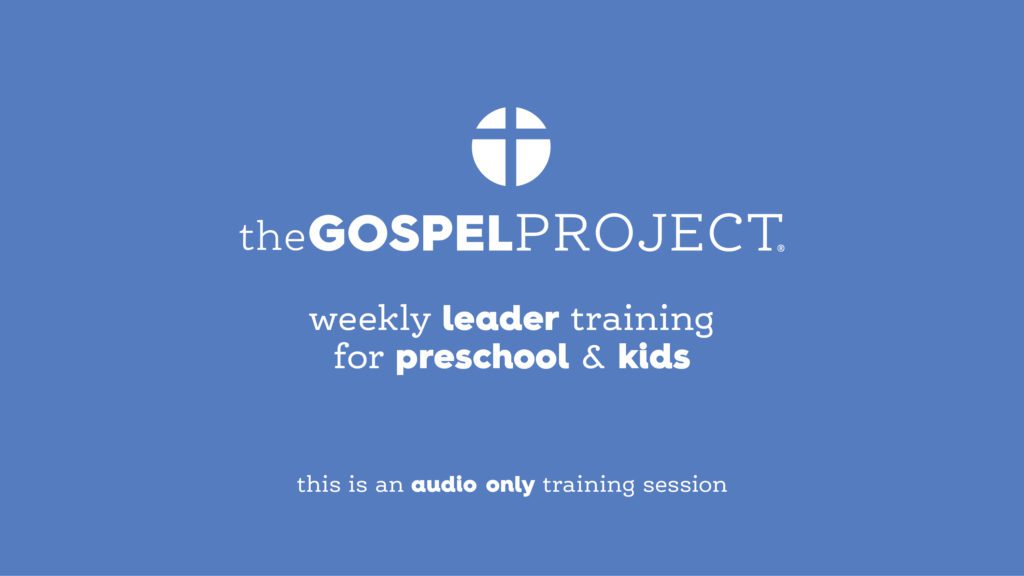 Every week, members of The Gospel Project for Kids team offer guidance to help you as you prepare to teach every session to preschoolers and kids. Listen in as we discuss:
The big idea of the session
Any areas of caution or requiring additional prep time
What we hope God will do through this session
Podcast (kidsleadertraining): Play in new window | Download
This training is available on Ministry Grid, Apple Podcasts, Spotify, Stitcher, and other podcast platforms.