COVID-19. Unemployment. Murder hornets. Injustices. Civil unrest.
The year 2020 has provided many reasons and opportunities for us to be afraid, hasn't it? I know that over the last four months, waves of fear have felt like they were crashing over me at times. I would imagine our kids have felt that too. Which is why this week's session might be quite helpful for them—and for us too.
Fear of the World
The account begins after a long day of Jesus teaching. It is not a stretch to assume that all of the activity of the day exhausted Jesus because this passage includes the only recorded instance of Jesus sleeping. But as evening began instead of making reservations at a local hotel, Jesus told the disciples that it was time for them to jump in a boat and sail to the other side of the Sea of Galilee.
The Sea of Galilee is 700 feet below sea level surrounded by mountains. This geography results in storms quickly developing over the sea as its warm air collides with cold air coming off of the mountains. One of these strong storms developed on this night as the disciples and Jesus crossed the sea. This storm seemed to be even more severe than normal—indicated by its description in the text and the fear of the disciples, several of whom were experienced fishermen on that sea.
As the boat overflowed with water and the disciples overflowed with fear, they did perhaps the only thing they could think of doing:
So they woke him up and said to him, "Teacher! Don't you care that we're going to die? " (Mark 4:38 CSB)
None of the Gospels are recorded in chronological order. Parts are, of course, but presenting the life of Jesus in chronology was not the goal of any of the Gospel writers. Nor is that what is expected in a Gospel, which is different from a biography of today. Instead, the Gospel writers organized their materials—all of it true, of course—around themes and ideas to support the case they wanted to make about Jesus.
So while we are only 4 chapters into Mark's Gospel here, we are actually about at the midpoint of Jesus' earthly ministry. Roughly 18 months into the 3-year long ministry. By this point, the disciples had experienced many of Jesus' miracles. They had heard His teachings. In other words, they should have known better this night. Which is why Jesus responded to them the way He did"
Then he said to them, "Why are you afraid? Do you still have no faith? " (Mark 4:40 CSB)
Here is the main idea of this passage: the sleeping Jesus had more authority over the disciples' lives than the storm raging around them. Or, put another way, God is sovereign; the winds and waves are not.
This is a timely message for us. God is sovereign. COVID-19 is not. God is sovereign. Unemployment is not. God is sovereign. Injustices are not. While it is understandable to fear the things of the world, we don't have to. Rather, we can turn to God—to the One who holds it all—and trust in His goodness and His power.
God hasn't promised to spare us from life's storms, but He has promised to see us through them one way or another.
Fear of the Lord
The account ends with the disciple still in fear—but now experience a different kind of fear, a proper fear. Instead of being afraid of the wind and waves, they were in fear of Jesus. What does this mean?
Well, it does not mean that they were afraid of Jesus in the sense that they were frightened of Him. That is not what fear of the Lord is about. Rather, it is a reverence of the divine. It is an awe of who Jesus is and what He is capable of. Here, for example, the disciples recognized that Jesus had the power of the wind and sea—and that amazing power sobered them greatly.
Is there a sense of literal fear mixed in here? I think so. But it is a healthy fear, a helpful fear. Just as it is wise to have a healthy fear of heights, or fast moving cars—respecting what they can do—we should fear God's power. We should take it seriously as a way to help us turn away from disobedience or from viewing God too lightly, too casually. Fear of the Lord is intended to coexist with love of the Lord.
Faith and Fear
A closing word of caution is in order. While we would be right to say that faith in Christ should drive out fear of the things of the world, we need to remember that this is a process of discipleship. Just because we have trusted in Christ for salvation does not mean that we will no longer experience fear of illness, unemployment, and so forth. Should we? Ideally not. But will we? Probably so. Instead of feeling guilt as we experience the wrong kind of fear or judging others, we need to live in grace and extend it to others, as we point them toward deeper faith in Christ to drive out that fear. What we don't want to do is make a kid feel like a "bad Christian" because he or she is afraid of something. We want that kid to understand that what they are feeling is common—we experience it too—but God has given us a better way in Christ. He has given us the answer to fear. Christ came to overcome all that cause us fear and as we learn to love Him and trust Him more, our fears will give way. We want to give hope rather than condemnation.
To fear the Lord is not to be scared of Him. It's to adore Him. Worship Him. Honor Him. It's to put Him in the right place in our thinking. The fear of the Lord is in many ways to honor the first commandment." — Trillia Newbell

Trillia J. Newbell, Fear and Faith (Chicago, IL: Moody, 2015), 119.
Tips for Teaching this Week's Session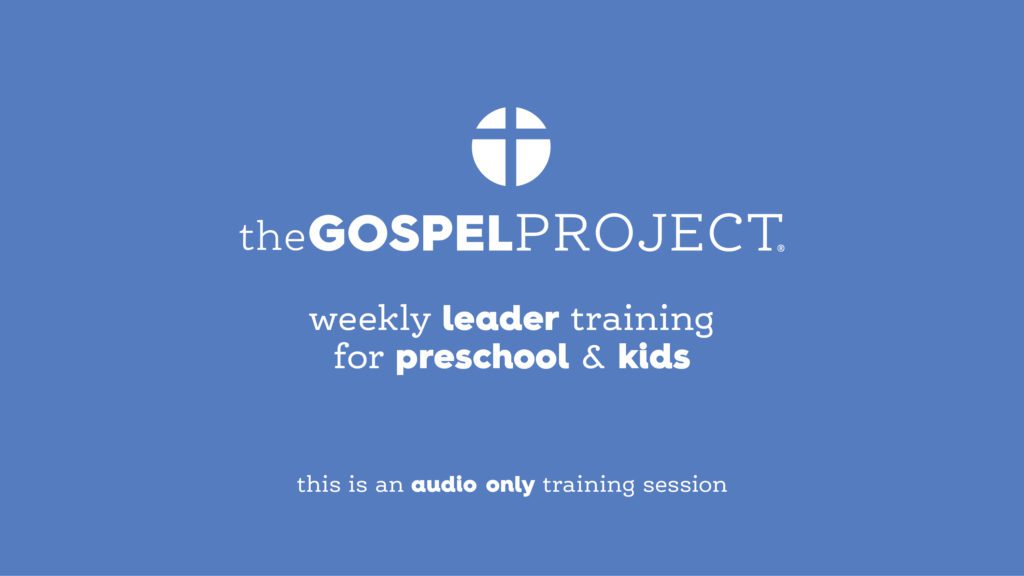 Every week, members of The Gospel Project for Kids team offer guidance to help you as you prepare to teach every session to preschoolers and kids. Listen in as we discuss:
The big idea of the session
Any areas of caution or requiring additional prep time
What we hope God will do through this session
Podcast (kidsleadertraining): Play in new window | Download
This training is available on Ministry Grid, Apple Podcasts, Spotify, Stitcher, and other podcast platforms.