On May 19, 2001, I stood on the platform of FBC Owensboro, Kentucky, with a handful of other men and watched as every head in the audience pivoted on cue as soon as they heard a series of distinct notes play over the organ. The doors in the back of the sanctuary opened, and Tara, my bride, entered the room. With every single eye fixed on her. Rightfully so. It would have been selfish and absurd for me to cry out in that moment, "What about me?!?! Pay attention to me!" I knew my place. I accepted my place. And I was overjoyed that my bride was the focus of the entire room.
This week's passage of Jesus walking on water is often taught with the emphasis on Peter, rather than Jesus. "We've got to get out of the boat" is often the rallying cry. While this is true and is not wrong of us to talk about, Peter is not the center of this story. Jesus is. Jesus always is. It is as if Jesus was walking into a room with every eye fixed on Peter instead. So let's take some time and turn our gaze toward Jesus where we will discover four big take-aways.
1. Jesus Sent the Disciples into a Storm
We can't miss the opening of this account. It is easy to do with all that follows, but if we do, we miss a critical point. Jesus made the disciples get into the boat and cross the sea without Him (see. Mt. 14:22). Knowing what waited for them: a storm.
A common belief is that God wants to protect His people from trouble and danger. It is not true. Sometimes God wants us to go through a trial—sometimes He brings it to pass in our lives—because He knows that He will do something for His glory and our good through that trial.
God's promise is not the absence of storms, but rather His presence in storms. And that He uses all things. Even difficult things. This doesn't mean that we pursue adversity, but it does mean that we should not flee from it. And it certainly means we should not believe that God has failed us when we experience it.
2. Jesus Prioritized Prayer
I need to confess that I am not good at praying. It is the spiritual discipline I am the weakest in. And I know that I am far from being alone.
Why is it so hard for us to pray? I have a few ideas, but I am not sure exactly why. But one thing we do know is that Jesus had no issue with praying (see Mt. 14:23). We see Him often pulling away to pray in the Gospels, including here.
Jesus needed to pray. Jesus wanted to pray. So Jesus prayed.
So do we. And so should we.
3. Jesus Calls on Us to Recognize Who He Is
In the middle of the storm, Jesus came to the disciples by walking on the water. The disciples, understandably, are confused by what they were seeing—or thought they were seeing. "It's a ghost" they exclaimed (see Mt. 14:26). They didn't think they were seeing a disembodied spirit, but rather a vision.
The word ghost (Gk phantasma) was used in Greek literature to describe dream visions or spirit apparitions. In the OT a closely related term referred to a dream or vision in which one saw something that was not real (Is 28:7; Jb 20:8 [LXX]). Matthew's usage may imply that the disciples thought their eyes were deceiving them. The language of the text does not imply that the Bible supports the belief that spirits of the dead roam the earth.

[Holman Bible Staff (2017). (p. 1526). CSB Study Bible. Holman Bible Publishers. Retrieved from https://app.wordsearchbible.lifeway.com]
We need to pay attention to Jesus' response:
Immediately Jesus spoke to them. "Have courage! It is I. Don't be afraid." (Matthew 14:27 CSB)
The phrase "It is I" deserves careful consideration. What Jesus said here is a little obscured by the English translation, but literally He said, "I am." This is significant because it echoes back to God revealing His name as Yahweh—I Am Who I Am—in Exodus 3:14 which we can trace through the Gospels when Jesus used this phrase several times to affirm His divinity. It seems that this is another one of those times.
"Have courage! I am God! Don't be afraid."
In the moment when the disciples were afraid—in their moment of need—Jesus did not draw their attention to what He could do for them, but rather who He is. You get the former and you can still miss the latter. But if you get the latter, you get the former too.
The truth of who Jesus is needs to reverberate through our souls day-by-day and minute-by-minute. We can never move past this. We can never take it for granted. We are followers of the person of Jesus Christ—the Son of God—not the idea of Jesus Christ.
4. Jesus Calls on Us to Place Faith in Him
While we don't want to focus on Peter in this passage, neither do we want to neglect Him. We need to give Peter some credit. He was the only disciple who had the faith to even suggest getting out of the boat—and that is what he did. And when he began to sink, he rightly called out to Christ for salvation.
But the main teaching point about Peter is not to keep our focus on Jesus rather than the waves, but what Jesus said to Peter. "You of little faith, why did you doubt?" (Mt. 14:31).
Knowing that Jesus is the Son of God is, of course, critical. But we cannot stop at knowing that—we are called to place our faith in Him. To believe in Him. To trust in Him. Not just for our salvation, but for our day-to-day lives.
Sometimes we can see faith through an abstract lens. We see it as something out there—as an abstract thing. But here we are also reminded that there is always a practical aspect to our faith. Faith prompts actions. Always. The actions might be big. They might be small. But they should always be there.
Trials therefore are medicines, which our gracious and wise Physician prescribes, because we need them; and he proportions the frequency and the weight of them to what the case requires … But any, or all of these crosses, are mercies, if the Lord works by them to prevent us from cleaving to the world, from backsliding in heart or life, and to keep us nearer to himself. Let us trust our Physician, and he will surely do us good." — John Newton

John Newton, The Aged Pilgrim's Triumph over Sin and the Grave, 2nd ed. (London: Baker and Fletcher, 1825), 33-34.
Tips for Teaching this Week's Session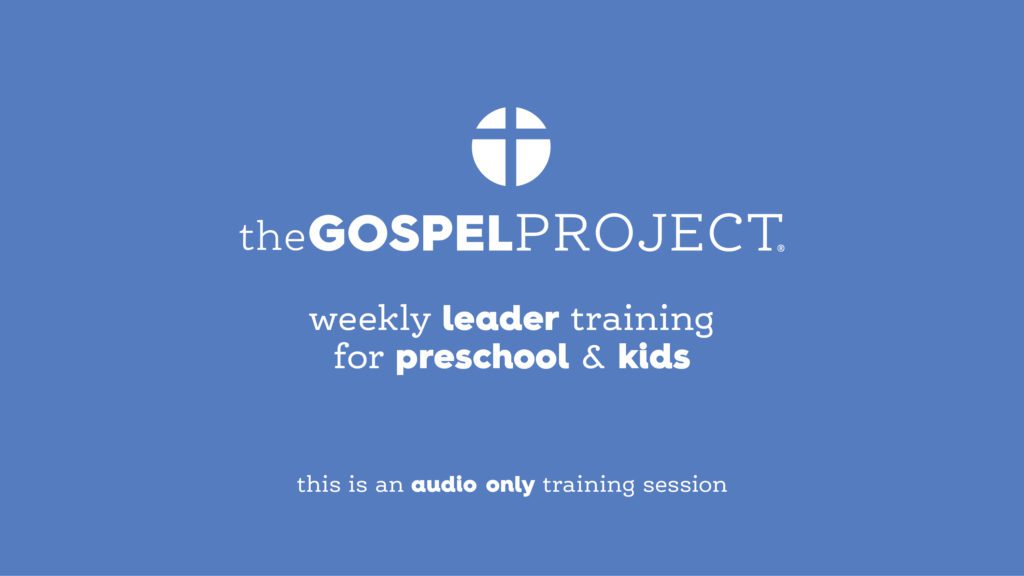 Every week, members of The Gospel Project for Kids team offer guidance to help you as you prepare to teach every session to preschoolers and kids. Listen in as we discuss:
The big idea of the session
Any areas of caution or requiring additional prep time
What we hope God will do through this session
Podcast (kidsleadertraining): Play in new window | Download
This training is available on Ministry Grid, Apple Podcasts, Spotify, Stitcher, and other podcast platforms.