I remember it well. It was April 1985. Coca-Cola, which had been sagging in soft drink sales, unveiled a product everyone was anxious to try: New Coke.
New Coke was new, but it was not good. New Coke bombed, leaving Coca-Cola scrambling to crank out the original cola formula, which it branded as Coca-Cola Classic.
Sometimes the original is just better.
But not always.
This week we turn our attention to the transfiguration where we see that the original is not always better and we get a brief glimpse to the world as it should be.
Jesus is the Greater Moses
One of the main ideas that The Gospel Project attempts to convey, especially in the Old Testament, is that Jesus is greater. Everything in the Old Testament points toward Jesus—the greater One. As we study the transfiguration, we see that Jesus is the greater Moses. Because I don't think I can say it better, here is how the CSB Study Bible explains it:
The reference to six days indicates the rapidity of the fulfillment of Jesus's promise in Mt 16:28, but it also may draw a parallel between Jesus's transfiguration and God's revelation of himself to Moses in Ex 24:13-18. Other parallels include the reference to a cloud, a brilliant light, a mountain, and the separation of a small number of men from the larger group. Moses's face shone brilliantly after he met with God (Ex 34:29-35), so Jesus's transfiguration serves to identify him as the new Moses. This seems confirmed by the words listen to him which echo Dt 18:15, a text from the prophet-like-Moses prophecy (Dt 18:15-19). On the new Moses theme, see notes at Mt 2:15 and 2:16. However, the description of Jesus transcends OT descriptions of the glorified Moses. In Ex 34:29-35, only Moses's face was radiant and this radiance was concealed by his veil. Jesus's face had radiance too glorious to conceal and his clothes became as white as the light. The description of Jesus parallels the description of the Ancient of Days in Dn 7:9-10 and shows that Jesus possessed the glory of his Father (Mt 16:27).

The presence of Moses and Elijah indicates that the necessary conditions for Messiah's coming had been fulfilled (v. 10; Dt 18:15-19; Mal 4:5). Peter's request to build shelters unjustly suggested equal treatment for Jesus and his guests. The Father's voice from heaven showed Jesus's superiority to Moses and Elijah. Jesus is God's beloved Son and the focus of true disciples. God spoke from heaven only twice in Matthew, both times to express his love for Jesus and his delight in his works (v. 5; 3:17). On the meaning of "Son," see note at 3:17. The disciples' reaction is understandable, for the OT shows that direct encounters with God inspire fright (e.g., Is 6:1-5).

[Holman Bible Staff (2017). (p. 1531). CSB Study Bible. Holman Bible Publishers. Retrieved from https://app.wordsearchbible.lifeway.com]
Keep in mind that Matthew's original audience was the Jews—a group who new Moses well and esteemed him greatly. They would have surely caught on to this comparison, forcing them to consider the identity of Jesus more fully.
This can serve as an opportunity for us to remind our kids that it is fitting for us to respect the heroes of the faith. There is nothing wrong with that…unless we respect them above Christ. Every hero in the Bible, except Jesus, and every hero of the faith since the Bible is a flawed, sinful man or woman who needed someone greater—Jesus—to provide forgiveness. You can remind your kids of that this week.
A Hint of the Kingdom
Jesus standing there with the veil pulled back enough to let His glory shine forth.
Moses and Elijah—representing the law and the prophets—chatting with Jesus about the events of His earthly ministry (see Lk 9:31).
A bright cloud covering them all and a voice from heaven booming forth.
Sounds amazing, doesn't it? No wonder why Peter, James, and John wanted to construct some shelters and stay a while. What they experienced was a sliver of the coming Kingdom. A hint as to what is in store for us one day.
(Side note: I love how we see here that Moses finally made it into the Promised Land.)
The world as we know it is broken. It is not as it is supposed to be. Sure, we see images of original creation and the coming Kingdom, but overall, the world is more broken than it is right.
But one day, when Jesus returns, He will establish His perfect, eternal Kingdom. Everything wrong will be made right that day. All believers of all time will be reunited. God's glory will fill the heavens and earth. Sin will be no more. Death will be a distant memory. And we will never have to leave. We can finally set up the shelters Peter, James, and John wanted.
This is the hope of the gospel. Share it with your kids this week.
Our Lord Jesus is ever giving, and does not for a solitary instant withdraw His hand … the rain of His grace is always dropping; the river of His bounty is everflowing, and the well-spring of His love is constantly overflowing. As the King can never die, so His grace can never fail." — Charles Spurgeon
Tips for Teaching this Week's Session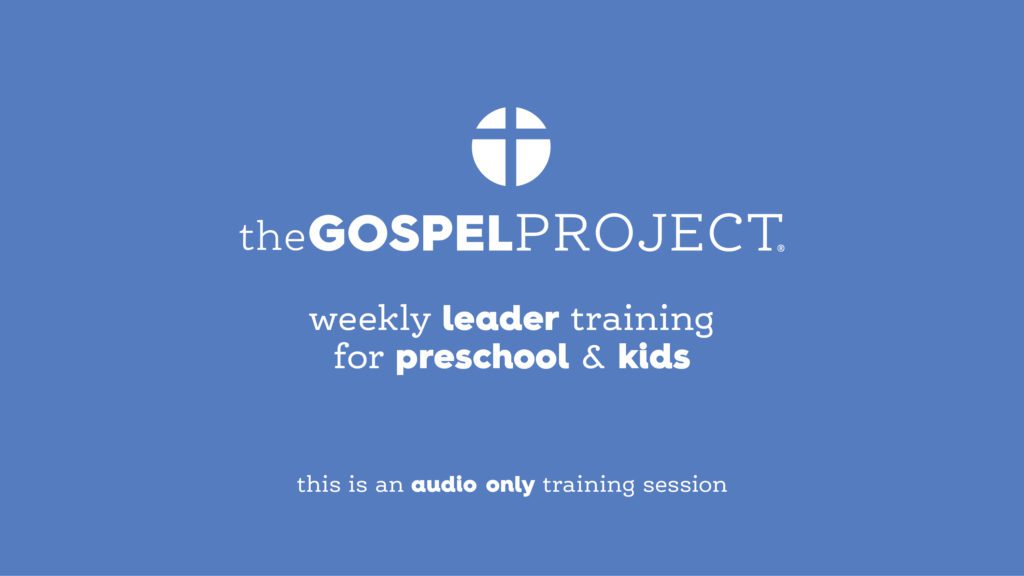 Every week, members of The Gospel Project for Kids team offer guidance to help you as you prepare to teach every session to preschoolers and kids. Listen in as we discuss:
The big idea of the session
Any areas of caution or requiring additional prep time
What we hope God will do through this session
Podcast (kidsleadertraining): Play in new window | Download
This training is available on Ministry Grid, Apple Podcasts, Spotify, Stitcher, and other podcast platforms.