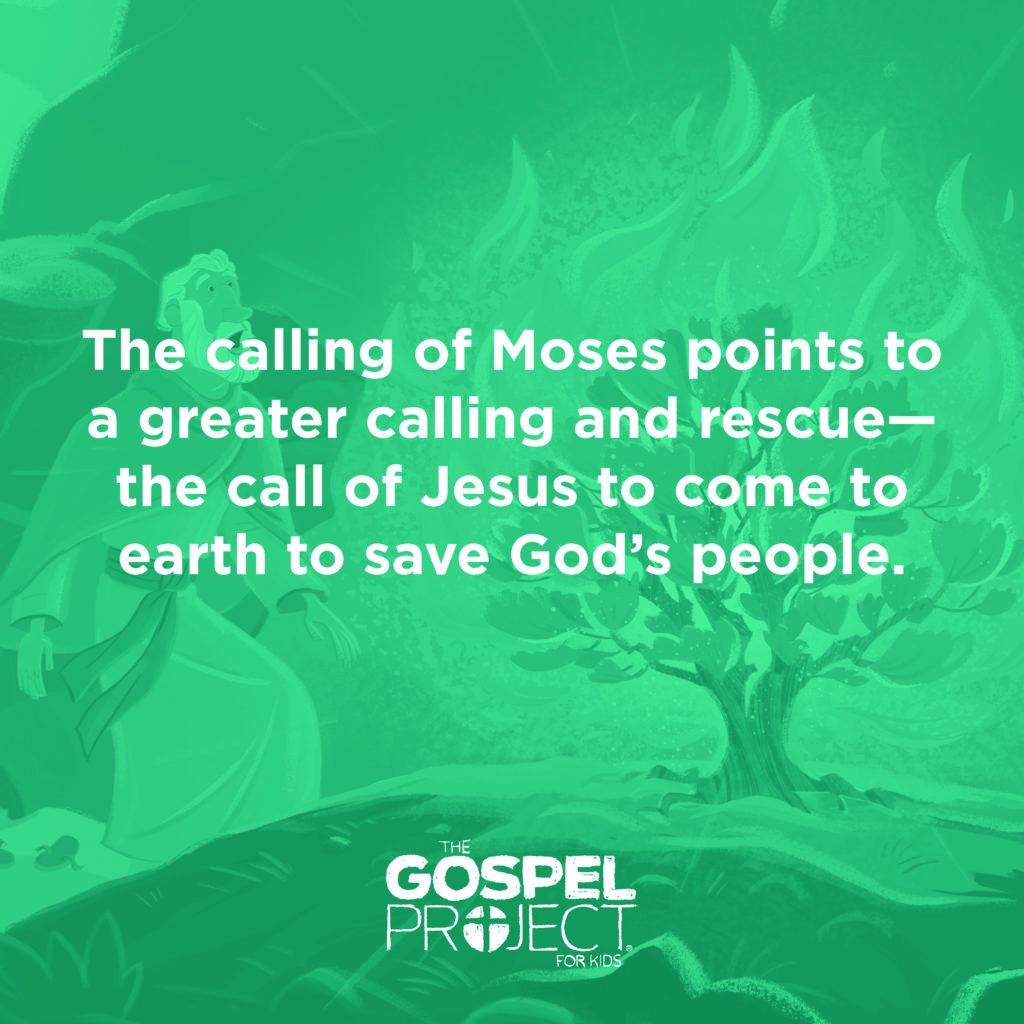 Recently, The Gospel Project for Kids team was at lunch and the question was posed about what a curmudgeon was. While we all knew how that term was generally used—a grumpy older man—the question was posed if the true definition required a curmudgeon to be an older person and/or a man. (Yes, this is the deep, meaningful topics that are discussed when you get a group of editors and writers to eat together.) Needless to say, someone pulled out a smartphone and the first definition she found was something along the lines of "a grumpy person." Although, I just did a search online and the definitions I found all mentioned older man as well. So what's the point of sharing that? Only to get us to think about what other words we might use on a regular basis without knowing what they truly mean. Words like
calling
.
How we often think of calling.
I'm going to go out on a limb and say that most of us probably think of
calling
in two ways. First, we think of calling like we experience it here in this week's Bible story. How God called people in the Bible, notably in the Old Testament. We think of God revealing Himself in various ways to the saints of old, ways He generally no longer interacts with people today. Second, we think of how pastors or missionaries are called into ministry/missions. And again, unless you are a pastor or a missionary, you likely don't relate to this sort of calling either. If I am right, then most of us think of calling as something abstract—something that we cannot relate with. And if we do, we don't know what calling truly means. Because calling not only relates to us, but it is a beautiful, critical way God relates with us.
God Calls Us into Relationship with Him
If you are a believer, it is because God called you to Himself. Let's pause right here and acknowledge that there are some significant theological implications of that statement. Does God call everyone? Does God call everyone in the same way? Can anyone resist His calling? Those are all important questions that deserve attention. And there are godly men and women who disagree about how they are each answered. And that's OK. There's plenty of room in our family for differences of opinion, even some pretty heavy ones, as long as we hold to the gospel together. We need to stop finding ways to divide ourselves and bloody one another in theological squabbles when Christ bled and died to bring us together. But my intention is not to explore those questions here, as important as they may be. Instead, I want us to see this from the perspective that we all can agree—that God calls us to Himself in that He has revealed Himself to us, has shared that He wants us to know Him, and provided the way to know Him in Jesus Christ. That is the form of calling I have in mind here. And this is a calling that definitely relates to us! God's calling in this way is not abstract, it is concrete; not distant, it is near. We see this in this week's Bible story, don't we? Before God sent Moses to Egypt, He brought him to Himself. He called to Moses from a burning bush and brought Moses near. He engaged with Moses. He forged a relationship. And that is what God does with us as well.
God Calls Us to Serve Him
And that takes us to the second type of calling—God's calling of us to serve Him. (By the way, I would not necessarily say these are the
only
two ways God calls.) Here we see God call to Moses to give him a task—a job. God would send Moses to deliver His people out of bondage in Egypt. This two-part calling—first to come to Him, then to go out for Him—is typical for how God worked in the Scriptures, and how He continues today. And not just for pastors and missionaries! I served as a pastor for 17 years before beginning to work at Lifeway four years ago. So I understand how and why being calling into pastoral ministry is unique. I can imagine why being called to be a missionary is similar. However, what I don't agree with is the common notion that
only
 pastors and missionaries are called. I don't agree with that because I see God calling men and women to a variety of tasks/occupations in Scripture. And thinking that God only calls missionaries and pastors implies that the rest of us—the vast majority of the church—are just kind of on our own. But that isn't how I see God work—that isn't the heartbeat of God I see on page after page of Scripture. I see a God who cares deeply about every facet of our lives and I see a God who is sovereign over every facet as well—seeking to use all of what we do for His glory and our good. And so, my contention is the God who called Moses to Himself and then sent him out from Himself calls you and me the same way. He calls us into relationship and then He calls us to serve Him in various ways. Most of you reading this post teach preschoolers or kids—God called you to that! What do you do for a living? God called you to that too! Where do you live? Yup, God called you there. Do you see why this matters? Do you see the majesty of this calling? It gives
all
we do weightiness, value, and import. This means nothing is mundane. Nothing is pointless. And the difficulties we face have meaning. Moses' task was not simple, and neither will ours be much of the time. But we persevere because it is what our good God has called us to do.
We need to take courage and remember that as long as we are on the side of God, we are the majority. We may lose our lives, but not our reward!"—Abel Ndjerareou [1]
Preschool Tip:
For preschoolers, emphasize that God wants to be in a friendship with them. Our little ones need to understand God's calling to Himself first and foremost. Point out that God initiated with Moses and loved Moses, just as He calls out to them through the Bible and loves them.
Kids Tip:
For kids, be sure that they understand that God wants them to be in a relationship with Him, but don't stop there. Add that God wants to use them—and He can and will starting now. If they have trusted in Christ, God has called them to serve Him just like He has called us as adults. Encourage them that they are where they are—neighborhoods, schools, teams, etc.—for a reason. Pray with them that they would make much of God wherever they go and in whatever they do. [1] Abel Ndjerareou, "Exodus," in
Africa Bible Commentary
, gen. ed. Tokunboh Adeyemo (Grand Rapids: Zondervan, 2006), 87.
Reader Interactions