The covers for The Gospel Project for Adults in this cycle have been an artistic reflection on the title theme of each volume, with some additional direction given according to the back cover summary. So for this Fall 2022 volume: 
From Rebellion to Exile

That the Lord is faithful to His promises should be comforting but simultaneously concerning, depending on one's own faith and faithfulness or the lack thereof. In 1 Kings to 2 Chronicles, the Israelites experienced firsthand the promise of God's discipline and judgment for rebellion—ultimately exile—but not without His mercy and patience to call His people back to Himself through His prophets. Groups will be reminded here that God does not tolerate sin, but He also responds to repentance with forgiveness and grace.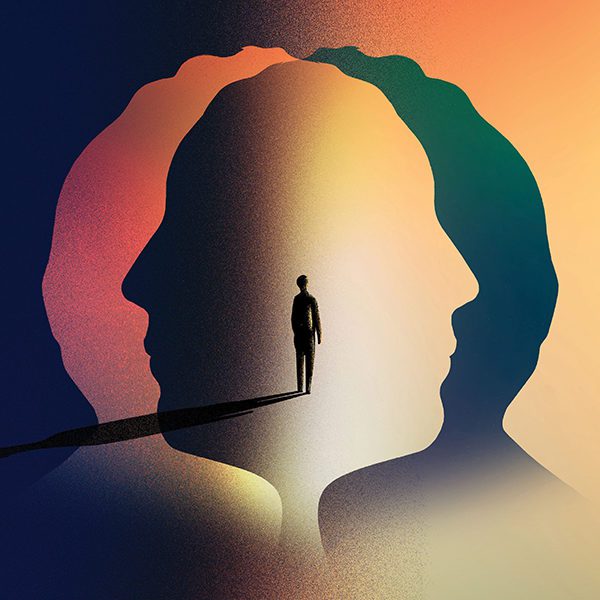 The cover image for this volume is meant to communicate the choices and consequences Judah and Israel faced through 1 Kings to 2 Chronicles, the divided kingdom portion of the biblical storyline. The Lord, through His law and His prophets, had laid before these nations the path of faithful obedience leading to blessing and warned of disobedience leading to discipline, judgment, and ultimately exile. They could obey and repent or they could reject the Lord and go after the idols of the nations surrounding them, and even oppressing them. Unfortunately, they often chose the latter, hence, the conclusion of exile reflected in the volume title. 
So in summary, the cover image illustrates the ever-present choice before God's people—indeed all people—which is also laid at our feet: obey the Lord or rebel against Him.
Now, biblically speaking, Isaiah 30:20-21 (verses covered in Unit 14, Session 2) uses the language of turning to the right or the left. This isn't modern-day political speech but a Hebrew idiom that means "to deviate from the holiness of God's will and instruction" (Leader Guide p. 87). Rather than turning from God's path, we should listen to the Teacher and walk in the straight paths He guides us to and through.
This "Teacher" referenced in Isaiah points us to Jesus, who has run the race before us through His sacrificial death and subsequent resurrection to secure our salvation by grace through faith in Him alone. And He guides His people through the work of the Holy Spirit in our lives. The Spirit, who is "the Spirit of God" and "the Spirit of Christ" (Rom. 8:9), convicts us of our sin and rebellion, renews our humble hearts, and strengthens us to step straight and true, following in the footsteps of our Savior, for our good and for God's glory.