This week, we look at Jesus feeding a large crowd of people, often known as the feeding of the 5,000. While that is a common way to describe this story, we preferred to make it more vague because it was actually many more than 5,000 fed that day—that was just the number of men. When you add in the women and children present, Jesus could have fed 15,000 people or more.
As you study this passage to prepare for this week's session, you might notice that this passage can be viewed through the lens of four individuals.
Philip: The Practical One
I would think that Peter appreciates this story because for once he isn't the disciple putting his foot in his mouth or playing the role of the more clueless one of the bunch. That honor goes to Philip here. But just like with Peter, we need to extend grace and empathy toward Philip. We probably would have done no better.
Philip, along with Andrew and Peter, was a native of nearby Bethsaida, explaining why Jesus turned to him to ask where they would buy bread for the people. But Jesus was not asking Philip where the closest grocery store was, instead He was testing the disciple (see John 6:6).
By this time, Philip had seen Jesus perform some pretty amazing miracles (as if any miracle is not amazing). It seems that Jesus was giving the disciple the opportunity to reply something like, "Jesus, we don't nearly have enough money or time to feed this crowd ourselves. It would take a miracle…which you seem to be good at."
Philip started the right way—by acknowledging the problem—but he stopped short of the solution—turning to Jesus for the answer. Again, we need to be gracious here. It is easy for us with hindsight to say that Philip should have expected this miraculous feeding. But Philip should have at least been able to recognize that the answer to Jesus' question rested in the One who asked it in the first place.
We may not know how God will work in every situation we face, but we need to strive to do what Philip did not—turn to God in all our situations, trusting Him to work in His way, in His time, for His glory and our good.
Andrew: The Stick-Your-Toe-in-the-Pool One
Then there is Andrew, the cautiously optimistic one. Like Philip, Andrew recognized that the math was not adding up on this occasion, but he was willing to float a trial balloon past Jesus all the same.
"There's a boy here who has five barley loaves and two fish ​— ​but what are they for so many? " (John 6:9 CSB)
Notice that Andrew doesn't go "all-in." He doesn't point out the boy's meager lunch as the solution in the hands of the Son of God. But he seems to recognize that there is a sliver of a possibility here. If Philip on this occasion lacked faith, Andrew seemed to express an incomplete faith. Philip said, "I don't see an answer." Andrew said, "I might see an answer, but I am not so sure."
How often might we live like Andrew—with faith that is anemic rather than being robust? How often do we stick our big toe into the pool rather than jumping in?
There is surely a place for caution at times—and we never want to trust in anything that God has not promised (e.g. "I will play in traffic because God has promised to protect me!") But where God has clearly spoken and where the Holy Spirit draws us, we must go all-in.
The Boy: The Generous One
Then there is one person in this account that many people overlook: the boy. We don't know how old this person was—he could have been a child or a young adult. But think about what it would have been like for him when one of the Teacher's disciples asked him if he would be able to give up his lunch. How many of us would have agreed to that? How many of us would have instead responded that it was absurd?
We need to be clear that Jesus did not need this boy's lunch. Jesus could have made bread from stones. Jesus could have rained down manna from heaven. God does not need anything from us. Rather, it was kindness that prompted Jesus to use the boy's lunch. Kindness to strengthen Andrew's fledgling faith, kindness to provide faith for Philip, and kindness to use this boy in one of the more well-known miracles in Scripture. Jesus was inviting each of these individuals deeper into the story.
And He does the same for us.
God calls on us to live generously with our resources. Again, not because He needs them. But because He wants us to experience the joy of being part of His mighty works. When we are stingy and cling to our possessions, we are not robbing God—we are robbing ourselves.
Jesus: The Miraculous One
Finally, but most importantly, we consider Jesus—the hero of this story and every story in Scripture. This miracle affirms the two-fold reasoning behind all of Jesus' miracles: Jesus' love for people and His desire to express His identity as the Son of God. We always need to remember that people are not props to Jesus. A crowd of real people—with real hunger—stood before Him that day. He cared about them—each and every person. That is why He provided for their physical needs. But later, Jesus would call Himself the bread of life (see John 6:35). He is the only One able to satisfy a person's soul. This was the message Jesus wanted to convey.
I would suggest that it is more important that we see Jesus for what He has done for us more than what He might do for us. While there is nothing at all wrong with hoping and expecting Jesus to work in our lives (we should), it is more important that we live each day remembering what He has done—that He is the One who provided forgiveness. He is the One who provided us with His righteousness. Doing so will safeguard us from viewing Jesus as a cosmic Santa Claus—the One who supplied our every want. Rather, we will see Jesus as the greatest gift in Himself. What more could we want? What else do we need? Everything else—from a fish and bread lunch to family and friends—is icing on the proverbial cake.
Our faith needs to be more than something that makes us feel good. Our relationship with Jesus needs to be more than just wanting our prayers to be answered and our needs to be met. We must follow Christ because he makes us complete and whole." — Africa Study Bible

"John," in Africa Study Bible (Oasis International LTD, 2016), 1538.
Tips for Teaching this Week's Session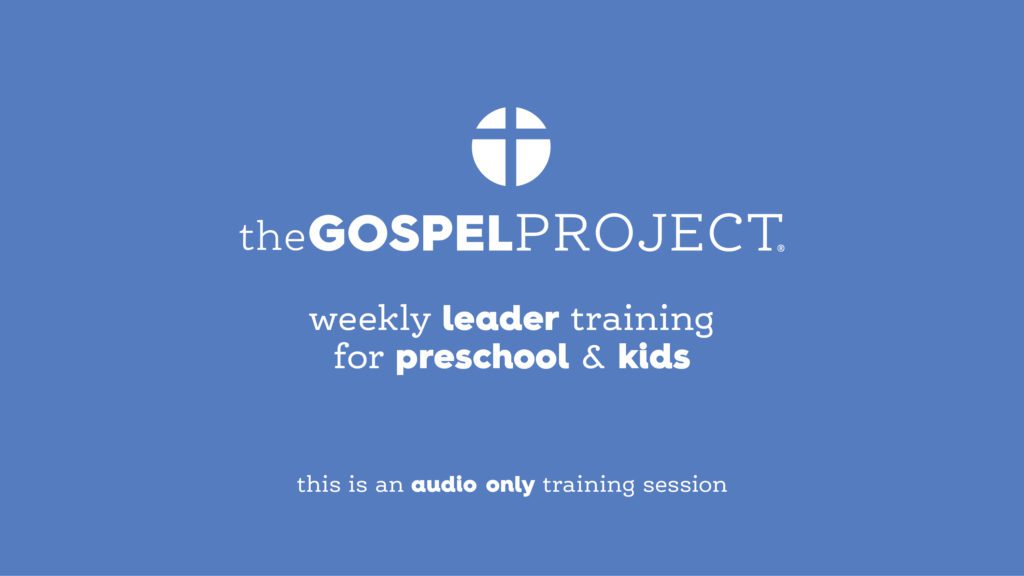 Every week, members of The Gospel Project for Kids team offer guidance to help you as you prepare to teach every session to preschoolers and kids. Listen in as we discuss:
The big idea of the session
Any areas of caution or requiring additional prep time
What we hope God will do through this session
Podcast (kidsleadertraining): Play in new window | Download
This training is available on Ministry Grid, Apple Podcasts, Spotify, Stitcher, and other podcast platforms.