If you are a little older—more "experienced"—like I am, you can remember a time before passwords. Do you remember those pre-Internet days when the only things we had to remember were locker combinations in school and perhaps a four-digit pin once in a while? How things have changed.
Now, we have tons of passwords for the various Internet sites we frequent. Passwords are so common and numerous today, that there are apps to help you keep them organized.
I don't know about you, but I cannot remember all of these passwords—so I used a strategy in the past of using the same password for multiple sites. Until I was hacked. Now, I use different passwords, but I have a trick to keep them sorted out. No, I am not telling what that is.
I want you to consider how hard it is for us to remember things in life, because it adds another layer to this week's Bible story of Stephen's sermon. Have you ever thought how impressive his impromptu sermon was? Here are three reasons:
Stephen knew the story of Scripture
I can't keep passwords straight, yet look at how much of the Bible's story Stephen knew. Look at the details. Look at the quotes. It's impressive, isn't it? Stephen was clearly a person who spent time in God's Word. You cannot get to this point of knowing God's redemptive history without doing that.
How about us? How about the kids we teach? If we were in Stephen's position, what would our sermon have looked like based on what we know of the story of Scripture. One of the aims of The Gospel Project is to teach the Bible as that one big story so that we could come close, even surpass, Stephen's sermon in Acts 6-7.
Stephen knew the point of Scripture
Look again at Stephen's sermon. Yes, he knew the story of Scripture, but that is not all he knew. He knew the point of Scripture as well. He didn't just share the story of Scripture as students tend to do when they write papers—just providing details of the story without making sense of them. Stephen shared the details of the story of Scripture to show how this one, big, beautiful story points to Jesus. From start to finish.
How about us? How about the kids we teach? Can we explain how different individual stories connect together and all point us to Jesus? Again, this is another aim of The Gospel Project: kids coming to see how Jesus is the star of the story from cover to cover.
Stephen knew the mandate of Scripture
Stephen new the story of Scripture. He knew the point of Scripture. But that wasn't all he knew. Look again at this sermon and you will see that he knew the mandate of Scripture. He knew what Scripture required of him and also of the audience he addressed.
For his part, Stephen understood that because of the gospel—because of what Christ had done for him—he was compelled to share Jesus with others. No matter what. Stephen would lay his life down because of his preaching that day becoming the first martyr of the church. Stephen knew this risk, and he not only accepted that risk, but he embraced it. That's not to say that Stephen wanted to die—that he had a death wish—but instead that he knew that Christ had every right to call on Stephen to lay down his life if He so chose.
Stephen also understood that when others heard this story and point of Scripture, they were then compelled to repent of their sins. Hearing the gospel calls on action. People either act by continuing in their rejection of Jesus or by repenting of their sin. "No response" is not an option. And so Stephen pleaded with the audience that day to stop being stiff-necked. Stop refusing Christ. His love for Christ and love for them compelled him to call on them to do something.
How about us? How about the kids we teach? Do we understand that the gospel drives us to action? That we have been called by God to take part of His mission to make Christ known? To call on others to repent of their sins and join us in that mission too? Once more, this is an aim of The Gospel Project: for kids, no matter their ages, who have trusted in Christ to make Him known.
Jesus prays that our lives would be saturated with the truth. This means all aspects of truth—information, internalization, transformation, and application. Because this is the will of God, we can dive into the Word of God with gospel confidence that the Spirit is working the Word into our hearts and minds for God's desired ends." — Eric Mason

Eric Mason, Unleashed (Nashville, TN: B&H, 2015), 61.
Tips for Teaching this Week's Session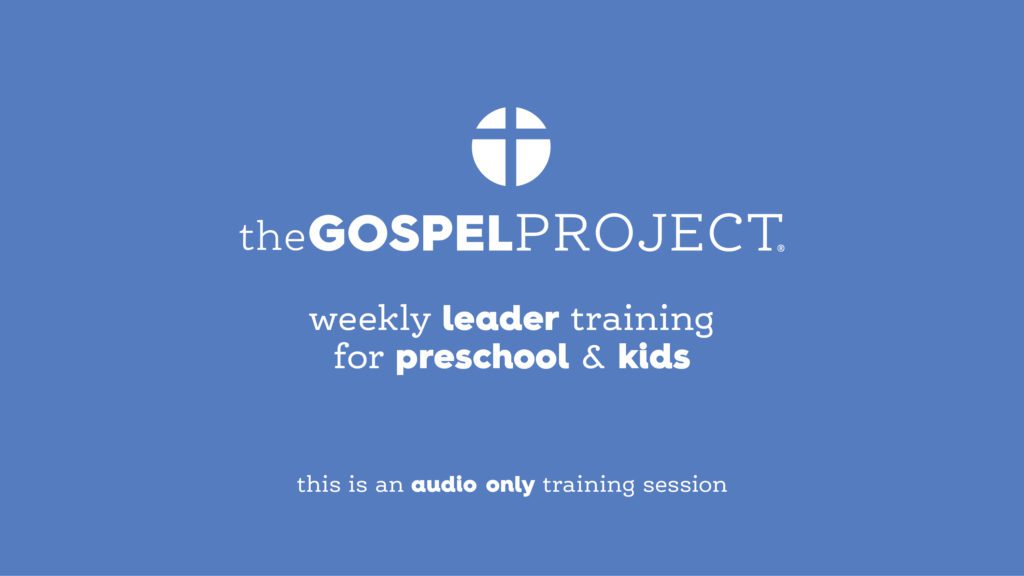 Every week, members of The Gospel Project for Kids team offer guidance to help you as you prepare to teach every session to preschoolers and kids. Listen in as we discuss:
The big idea of the session
Any areas of caution or requiring additional prep time
What we hope God will do through this session
Podcast (kidsleadertraining): Play in new window | Download
This training is available on Ministry Grid, Apple Podcasts, Spotify, Stitcher, and other podcast platforms.